"What's Your Story?" is a guest post feature on BCBA web. Authors-traditional and self-published-are invited to write about their books, writing journey, creative process, inspiration, rewards and challenges of publishing, etc. They can go in whatever direction they choose. We are excited and grateful for their willingness to share, and we hope you enjoy our guests' stories.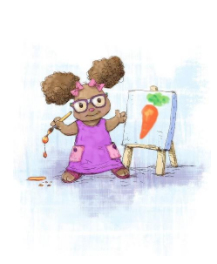 Bringing Nerdi to the world took about 28 years. What began as a crude drawing given to my mother, blossomed into a series that I am proud to write. I wasn't sure I wanted to write children's books. I thought that because I could barely draw stick figures, I was closed off to the world of children's books. I didn't think Nerdi could be anything outside of a picture story, and the idea of writing a chapter book for young readers terrified me. So I took a class. And under the support of my classmates and because of feedback from two knowledgeable and experienced people in the industry, I was able to write a chapter book—a book that I was proud of. My pitch of my idea was enough to gain the attention of an agent who would possibly represent me and bring Nerdi to the world. After six weeks and no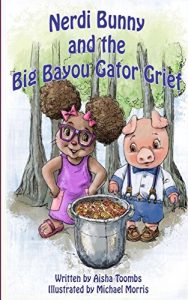 response, I finally heard back from the agent. He didn't think Nerdi was the right fit for him, and I was devastated. I thought my dream was over.  I had some amateur author fears—primarily the one where you think someone else will beat you to the punch and put out a similar idea before you—combined with the process of sending queries. Waiting six weeks over and over also didn't appeal to me. I felt like the industry was going to make me wait another 28 years. But, I believed in my heart that this was Nerdi's time, and she was good enough to introduce to the world.  So, I decided to go at it alone and self-publish.
The self-publishing industry is very different than from 12 years ago, and I found a company that took my story from start to a polished finish. They even found me an illustrator who listened to the concept and the ideas I had but couldn't put on paper due to lack of abilities. Michael, my illustrator, took the challenge on a whim, and when I saw his concept, I cried. It was like he reached into my head, and Nerdi was born. At that moment, I knew that without a doubt I made the right decision because my dream was no longer on hold—she was staring right back at me.
While the process of self-publishing can be an expensive one, the rewards are many: watching a child's face light up when they talk about how much they loved the story, seeing the pictures children draw of Nerdi, receiving book reports from parents that their children did, speaking to teachers who used your book for a unit lesson and hearing how excited students were to read it, and finally, people walking past my author table and stopping to talk to me. Sometimes, those people tell me that their daughter, niece, or grandchild, no matter what color or race she is, "looks just like Nerdi." The feeling I feel afterward is priceless.

Aisha Toombs is a teacher, author, and bee-enthusiast. Nerdi Bunny and the Busy Bee Bully Bear Business marks her debut as a children's book writer. She has written articles and reviews for various websites, written a one-act play for the 2008 GLO New Light Festival in Philadelphia and previously self-published an anthology of poetry and short stories. She currently resides outside of Philadelphia, PA where she lives with her family and teaches high school English.
Connect with Aisha Toombs and Nerdi:
Website | Facebook | Twitter | Instagram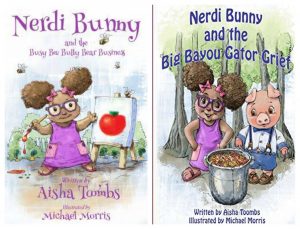 Nerdi Bunny Book Series:
Nerdi Bunny and the Busy Bee Bully Bear Business (2015)
Nerdi Bunny and the Big Bayou Gator Grief (2017)
---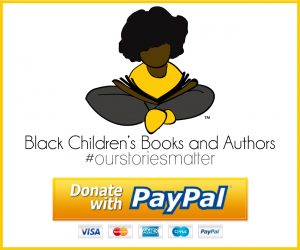 Your thoughtful donation will support our mission to promote awareness of children's and young adult literature by Black authors. Our stories matter. Thank you!