Aumas's Long Run – Eucabeth Odhiambo 
September 1, 2017 | Carolrhoda Books | MG Ages 10-13 | Grades 5-8 | 304 Pages
Auma loves to run. In her small Kenyan village, she's a track star with big dreams. A track scholarship could allow her to attend high school and maybe even become a doctor. But a strange new sickness called AIDS is ravaging the village, and when her father becomes ill, Auma's family needs her help at home. Soon more people are getting sick—even dying—and no one knows why. Now Auma faces a difficult choice. Should she stay to support her struggling family or leave to pursue her own future? Auma knows her family is depending on her, but leaving might be the only way to find the answers to questions about this new disease.
Malaika's Winter Carnival – Nadia L. Hohn, Illustrator – Irene Luxbacher 
September 5, 2017 | Groundwood Books | PB Ages 3 – 7 | Grades PS-2 | 36 Pages
Malaika is happy to be reunited with Mummy, but it means moving to a different country where everything is different. It's cold in her new city, no one understands when she talks, and Carnival is nothing like the celebration Malaika knows from home! When Mummy marries Mr. Frédéric, Malaika gets a new sister called Adèle. Her new family is nice, but Malaika misses Grandma. She has to wear a puffy purple coat, learn a new language, and get used to calling this new place home. Things come to a head when Mummy and Mr. Frédéric take Malaika and Adèle to a carnival. Malaika is dismayed that there are no colorful costumes and that it's nothing like Carnival at home in the Caribbean!
Shadowhouse Fall (The Shadowshaper Cypher, #2) – Daniel José Older
September 12, 2017 | Arthur A. Levine Books | YA Ages 12 and up | Grades 7 and up | 368 Pages
Sierra and her friends love their new lives as shadowshapers, making art and creating change with the spirits of Brooklyn. Then Sierra receives a strange card depicting a beast called the Hound of Light — an image from the enigmatic, influential Deck of Worlds. The shadowshapers know their next battle has arrived. Thrust into an ancient struggle with enemies old and new, Sierra and Shadowhouse are determined to win. Revolution is brewing in the real world as well, as the shadowshapers lead the fight against systems that oppress their community. To protect her family and friends in every sphere, Sierra must take down the Hound and master the Deck of Worlds . . . or risk losing them all.
In Your Hands – Carole Boston Weatherford, Illustrator – Brian Pinkney 
September 12, 2017 | Atheneum Books for Young Readers | PB Ages 4 – 8 years | Grades PS – 3 | 32 Pages
A black mother expresses the many hopes and dreams she has for her child in this powerful picture book masterpiece that's perfect for gift-giving.

Schomburg: The Man Who Built a Library – Carole Boston Weatherford, Illustrator – Eric Velasquez  
September 12, 2017 | Candlewick | PB Ages 9 – 12 | Grades 4 – 7 | 48 Pages
Amid the scholars, poets, authors, and artists of the Harlem Renaissance stood an Afro–Puerto Rican named Arturo Schomburg. This law clerk's life's passion was to collect books, letters, music, and art from Africa and the African diaspora and bring to light the achievements of people of African descent through the ages. When Schomburg's collection became so big it began to overflow his house (and his wife threatened to mutiny), he turned to the New York Public Library, where he created and curated a collection that was the cornerstone of a new Negro Division. A century later, his groundbreaking collection, known as the Schomburg Center for Research in Black Culture, has become a beacon to scholars all over the world.
What's the Difference? – Doyin Richards 
September 19, 2017 | Feiwel & Friends | PB Ages 3 – 5 | Grades PS – K | 32 Pages
Doyin Richards tackles a timely and universal subject―diversity and acceptance―and distills it for the youngest readers. Because what matters most is not our differences, but what we do together as friends, as families, as colleagues, as citizens.
The Stars Beneath Our Feet – David Barclay Moore
September 19, 2017 | Knopf Books for Young Readers | MG Ages 10 – 13 | Grades 5 and up | 304 Pages
It's Christmas Eve in Harlem, but twelve-year-old Lolly Rachpaul and his mom aren't celebrating. They're still reeling from his older brother's death in a gang-related shooting just a few months earlier. Then Lolly's mother's girlfriend brings him a gift that will change everything: two enormous bags filled with Legos. Lolly's always loved Legos, and he prides himself on following the kit instructions exactly. Now, faced with a pile of building blocks and no instructions, Lolly must find his own way forward. His path isn't clear—and the pressure to join a "crew," as his brother did, is always there. When Lolly and his friend are beaten up and robbed, joining a crew almost seems like the safe choice. But building a fantastical Lego city at the community center provides Lolly with an escape—and an unexpected bridge back to the world. 
The Rise of the Jumbies (The Jumbies, #2) – Tracey Baptiste 
September 19, 2017 | Algonquin Young Readers | MG Ages 8 – 12 | Grade 3 – 7 | 56 Pages
Corinne LaMer defeated the wicked jumbie Severine months ago, but things haven't exactly gone back to normal in her Caribbean island home. Everyone knows Corinne is half-jumbie, and many of her neighbors treat her with mistrust. When local children begin to go missing, snatched from the beach and vanishing into wells, suspicious eyes turn to Corinne. To rescue the missing children and clear her own name, Corinne goes deep into the ocean to find Mama D'Leau, the dangerous jumbie who rules the sea. But Mama D'Leau's help comes with a price. Corinne and her friends Dru, Bouki, and Malik must travel with mermaids across the ocean to the shores of Ghana to fetch a powerful object for Mama D'Leau. The only thing more perilous than Corinne's adventures across the sea is the foe that waits for her back home.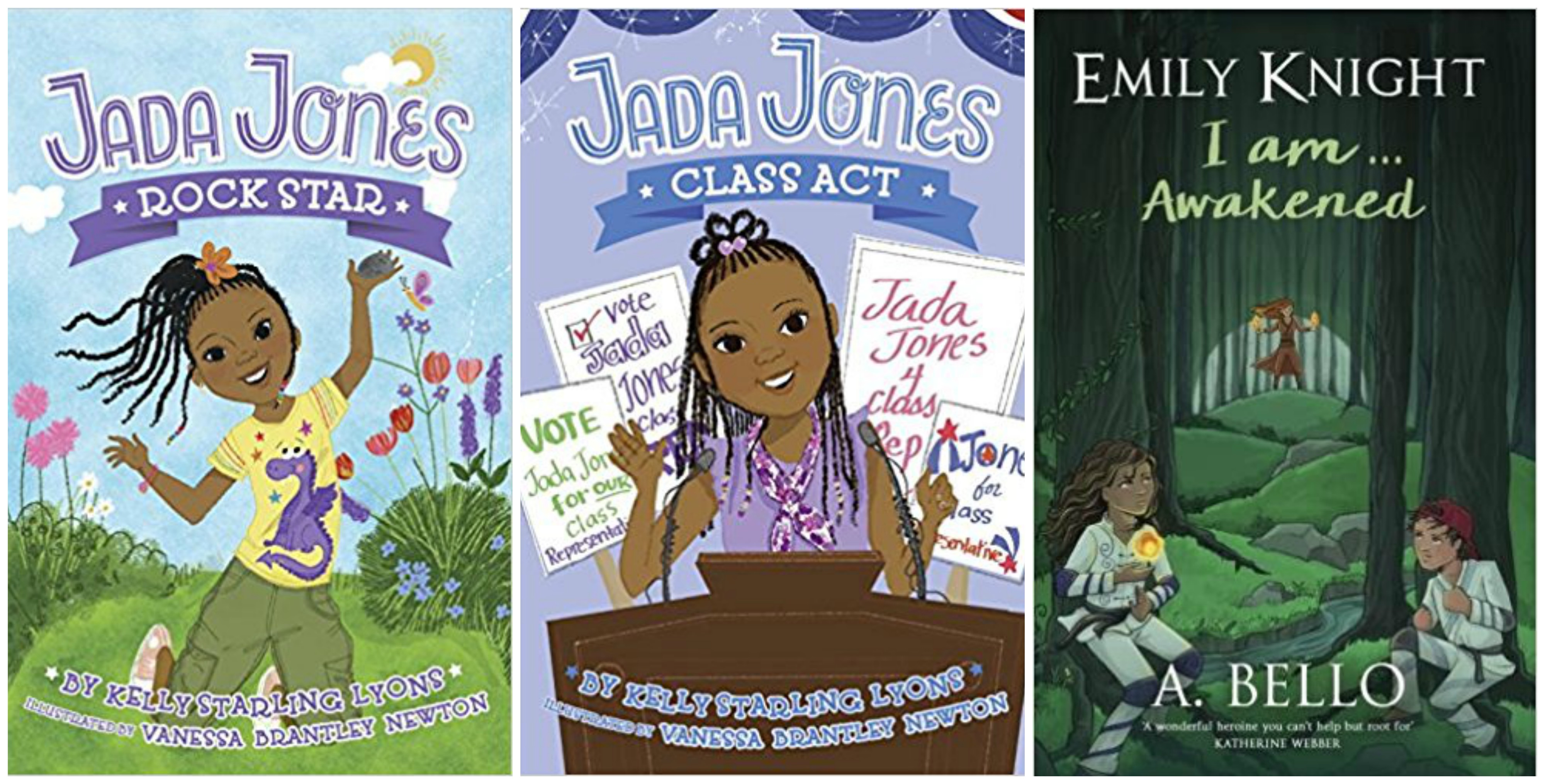 Rock Star (Jada Jones, #1) – Kelly Starling Lyons, Illustrator – Vanessa Brantley-Newton
September 19, 2017 | Penguin Workshop | Chapter Ages 6 – 8 | Grades 1 – 3 | 96 Pages
When Jada Jones's best friend moves away, school feels like the last place she wants to be. She'd much rather wander outside looking for cool rocks to add to her collection, since finding rocks is much easier than finding friends. So when Jada's teacher announces a class project on rocks and minerals, Jada finally feels like she's in her element. The only problem: one of her teammates doesn't seem to like any of Jada's ideas. She doesn't seem to like Jada all that much, either. Can Jada figure out a way to make a winning science project and a new friend?  
Class Act (Jada Jones, #2) – Kelly Starling Lyons, Illustrator – Vanessa Brantley-Newton 
September 19, 2017 | Penguin Workshop | Chapter Ages 6 – 8 | Grades 1 – 3 | 96 Pages
As a candidate for class representative, Jada is ready to give the campaign her all. But when rumors start to fly about her secret fear of public speaking, she isn't sure who she can trust. And the pressure to make promises she can't keep only adds to her growing list of problems. Is winning even worth it when friendships are on the line?
Emily Knight: I am… Awakened – A. Bello 
September 28, 2017 | Hashtag Press | 320 Pages
Dark times are upon us. Neci is back and she is more dangerous than ever. The warriors are forced to pick a side and to stand up for what they believe in. The race is on to find the missing warrior first. It's the only way to prevent a war from happening and to stop Neci from destroying everything. Emily Knight has to get sharper, stronger and faster because Neci has made her a target and someone is going to great lengths to hurt her. Can Emily win the race? Or will Neci take her down once and for all?
What are your thoughts on the upcoming new releases? Or perhaps you know of a September title that's not on the list? Leave us a comment below.
---
Your kind donation will support our mission to promote awareness of children's and young adult literature by Black authors. Our stories matter. Thank you!