That Is My Dream! – Langston Hughes, Illustrator – Daniel Miyares
To fling my arms wide
In some place of the sun, 
To whirl and to dance
Till the white day is done….

Langston Hughes's inspiring and timeless message of pride, joy, and the dream of a better life is brilliantly and beautifully interpreted in Daniel Miyares's gorgeous artwork. Follow one African-American boy through the course of his day as the harsh reality of segregation and racial prejudice comes into vivid focus. But the boy dreams of a different life—one full of freedom, hope, and wild possibility, where he can fling his arms wide in the face of the sun. Hughes's powerful vision, brought joyously to life by Daniel Miyares, is as relevant—and necessary—today as when it was first written.
October 3, 2017 | Schwartz & Wade | PB Ages 5 and up | Grades K and up |32 Pages | Purchase Here
Akata Warrior – Nnedi Okorafor 
A year ago, Sunny Nwazue, an American-born girl Nigerian girl, was inducted into the secret Leopard Society. As she began to develop her magical powers, Sunny learned that she had been chosen to lead a dangerous mission to avert an apocalypse, brought about by the terrifying masquerade, Ekwensu. Now, stronger, feistier, and a bit older, Sunny is studying with her mentor Sugar Cream and struggling to unlock the secrets in her strange Nsibidi book. Eventually, Sunny knows she must confront her destiny. With the support of her Leopard Society friends, Orlu, Chichi, and Sasha, and of her spirit face, Anyanwu, she will travel through worlds both visible and invisible to the mysteries town of Osisi, where she will fight a climactic battle to save humanity.
October 3, 2017 | Viking Books for YR | YA Ages 12 and up | Grades 7 and up |496 Pages | Purchase Here
Now or Never!: Fifty-Fourth Massachusetts Infantry's War to End Slavery – Ray Shepard 
Here is the riveting dual biography of two little-known but extraordinary men in Civil War history―George E. Stephens and James Henry Gooding. These Union soldiers not only served in the Massachusetts 54th Infantry, the well-known black regiment, but were also war correspondents who published eyewitness reports of the battlefields. Their dispatches told the truth of their lives at camp, their intense training, and the dangers and tragedies on the battlefield. Like the other thousands of black soldiers in the regiment, they not only fought against the Confederacy and the inhumanity of slavery, but also against injustice in their own army. The regiment's protest against unfair pay resulted in America's first major civil rights victory―equal pay for African American soldiers. This fresh perspective on the Civil War includes an author's note, timeline, bibliography, index and source notes. 
October 10, 2017 | Calkins Creek| MG Ages 11 and up | Grades 6 and up |144 Pages | Purchase Here
Crown: An Ode to the Fresh Cut – Derrick Barnes, Gordon C. James 
The barbershop is where the magic happens. Boys go in as lumps of clay and, with princely robes draped around their shoulders, a dab of cool shaving cream on their foreheads, and a slow, steady cut, they become royalty. That crisp yet subtle line makes boys sharper, more visible, more aware of every great thing that could happen to them when they look good: lesser grades turn into As; girls take notice; even a mother's hug gets a little tighter. Everyone notices. A fresh cut makes boys fly.

October 10, 2017 | Agate Bolden | PB Ages 3 – 8 | Grades PK – 3 |32 Pages | Purchase Here
I Am Alfonso – Jones Tony Medina 
Alfonso Jones can't wait to play the role of Hamlet in his school's hip-hop rendition of the classic Shakespearean play. He also wants to let his best friend, Danetta, know how he really feels about her. But as he is buying his first suit, an off-duty police officer mistakes a clothes hanger for a gun, and he shoots Alfonso.
When Alfonso wakes up in the afterlife, he's on a ghost train guided by well-known victims of police shootings, who teach him what he needs to know about this subterranean spiritual world. Meanwhile, Alfonso's family and friends struggle with their grief and seek justice for Alfonso in the streets. As they confront their new realities, both Alfonso and those he loves realize the work that lies ahead in the fight for justice.
In the first graphic novel for young readers to focus on police brutality and the Black Lives Matter movement, as in Hamlet, the dead shall speak–and the living yield even more surprises.
October 15, 2017 | Tu Books| YA Ages 12 and up | Grades 7 and up | 176 Pages | Purchase Here

Justyce McAllister is top of his class and set for the Ivy League—but none of that matters to the police officer who just put him in handcuffs. And despite leaving his rough neighborhood behind, he can't escape the scorn of his former peers or the ridicule of his new classmates. Justyce looks to the teachings of Dr. Martin Luther King Jr. for answers. But do they hold up anymore? He starts a journal to Dr. King to find out.

Then comes the day Justyce goes driving with his best friend, Manny, windows rolled down, music turned up—way up, sparking the fury of a white off-duty cop beside them. Words fly. Shots are fired. Justyce and Manny are caught in the crosshairs. In the media fallout, it's Justyce who is under attack.
October 17, 2017 | Crown Books for YR| YA 12 and up | Grades 7 and up | 224 Pages | Purchase Here
Long Way Down – Jason Reynolds 
A cannon. A strap.
A piece. A biscuit.
A burner. A heater.
A chopper. A gat.
A hammer
A tool
for RULE

Or, you can call it a gun. That's what fifteen-year-old Will has shoved in the back waistband of his jeans. See, his brother Shawn was just murdered. And Will knows the rules. No crying. No snitching. Revenge. That's where Will's now heading, with that gun shoved in the back waistband of his jeans, the gun that was his brother's gun. He gets on the elevator, seventh floor, stoked. He knows who he's after. Or does he? As the elevator stops on the sixth floor, on comes Buck. Buck, Will finds out, is who gave Shawn the gun before Will took the gun. Buck tells Will to check that the gun is even loaded. And that's when Will sees that one bullet is missing. And the only one who could have fired Shawn's gun was Shawn. Huh. Will didn't know that Shawn had ever actually USED his gun. Bigger huh. BUCK IS DEAD. But Buck's in the elevator? Just as Will's trying to think this through, the door to the next floor opens. A teenage girl gets on, waves away the smoke from Dead Buck's cigarette. Will doesn't know her, but she knew him. Knew. When they were eight. And stray bullets had cut through the playground, and Will had tried to cover her, but she was hit anyway, and so what she wants to know, on that fifth floor elevator stop, is, what if Will, Will with the gun shoved in the back waistband of his jeans, MISSES.

And so it goes, the whole long way down, as the elevator stops on each floor, and at each stop someone connected to his brother gets on to give Will a piece to a bigger story than the one he thinks he knows. A story that might never know an END…if WILL gets off that elevator.

October 24, 2017 | Atheneum/Dlouhy | YA 12 and up | Grades 7 and up | 320 Pages | Purchase Here
Calling My Name – Liara Tamani  
This unforgettable novel tells a universal coming-of-age story about Taja Brown, a young African American girl growing up in Houston, Texas, and deftly and beautifully explores the universal struggles of growing up, battling family expectations, discovering a sense of self, and finding a unique voice and purpose.
Told in fifty-three short, episodic, moving, and iridescent chapters, Calling My Name follows Taja on her journey from middle school to high school. Literary and noteworthy, this is a beauty of a novel that deftly captures the multifaceted struggle of finding where you belong and why you matter.
October 24, 2017 | Greenwillow Books| YA Ages 12 and up | Grades 8 and up | 320 Pages | Purchase Here
Princesses with curls wear pearls.
Princesses with head wraps take long naps.
And princesses with teeny-weeny Afros wear teeny-weeny bows.
Celebrate different hair shapes, textures, and styles in this self-affirming picture book! From dreadlocks to blowouts to braids, Princess Hair shines a spotlight on the beauty and diversity of black hair, showing young readers that every kind of hair is princess hair.
October 31, 2017 | Little, Brown Books for YR | PB Ages 4 – 8 | Grades PK – 3 | 32 Pages | Purchase Here
Beasts Made of Night – Tochi Onyebuchi  

Taj is the most talented of the aki, young sin-eaters indentured by the mages to slay the sin-beasts. But Taj's livelihood comes at a terrible cost. When he kills a sin-beast, a tattoo of the beast appears on his skin while the guilt of committing the sin appears on his mind. Most aki are driven mad by the process, but 17-year-old Taj is cocky and desperate to provide for his family. When Taj is called to eat a sin of a member of the royal family, he's suddenly thrust into the center of a dark conspiracy to destroy Kos. Now Taj must fight to save the princess that he loves—and his own life.
October 31, 2017 | Razorbill | YA Ages 12 and up | Grades 7 and up | 304 Pages | Purchase Here
What are your thoughts on October's new releases? Do you know any books that are not listed? Let us know in the comments below.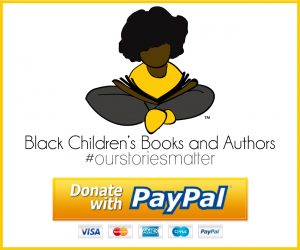 Your thoughtful donation will support our mission to promote awareness of children's and young adult literature by Black authors. Our stories matter. Thank you!