Before She Was Harriet – Lesa Cline-Ransome, Illustrator – James E. Ransome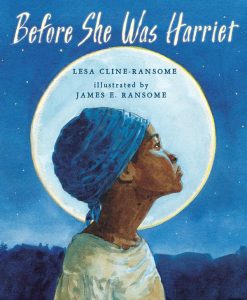 A lush and lyrical biography of Harriet Tubman, written in verse and illustrated by an award-winning artist.
We know her today as Harriet Tubman, but in her lifetime, she was called by many names. As General Tubman she was a Union spy. As Moses she led hundreds to freedom on the Underground Railroad. As Minty she was a slave whose spirit could not be broken. An evocative poem and opulent watercolors come together to honor a woman of humble origins whose courage and compassion make her larger than life
November 7, 2017 | Holiday House | PB Ages 4 and up | Grades K and up |32 Pages | Purchase Here
Hey Black Child – Useni Eugene Perkins, Illustrator – Bryan Collier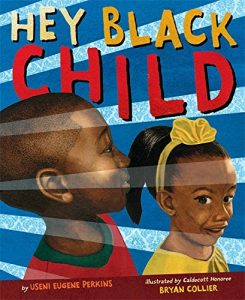 Hey black child,
Do you know who you are?
Who really are?
Do you know you can be
What you want to be
If you try to be
What you can be?
This lyrical, empowering poem celebrates black children and seeks to inspire all young people to dream big and achieve their goals.
November 14, 2017 | Little, Brown Books for YR | PB Ages 4 up | Grades PK up |40 Pages | Purchase Here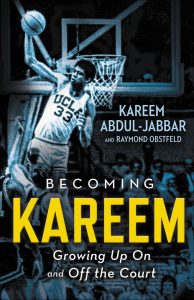 Becoming Kareem: Growing Up On and Off the Court – Kareem Abdul-Jabbar & Raymond Obstfeld 
The first memoir for young readers by sports legend Kareem Abdul-Jabbar.

At one time, Lew Alcindor was just another kid from New York City with all the usual problems: He struggled with fitting in, with pleasing a strict father, and with overcoming shyness that made him feel socially awkward. But with a talent for basketball, and an unmatched team of supporters, Lew Alcindor was able to transform and to become Kareem Abdul-Jabbar.

From a childhood made difficult by racism and prejudice to a record-smashing career on the basketball court as an adult, Kareem Abdul-Jabbar's life was packed with "coaches" who taught him right from wrong and led him on the path to greatness. His parents, coaches Jack Donahue and John Wooden, Muhammad Ali, Bruce Lee, and many others played important roles in Abdul-Jabbar's life and sparked him to become an activist for social change and advancement. The inspiration from those around him, and his drive to find his own path in life, are highlighted in this personal and awe-inspiriting journey.

Written especially for young readers, Becoming Kareem chronicles how Kareem Abdul-Jabbar become the icon and legend he is today, both on and off the court.
November 21, 2017 | Little, Brown Books for YR | MG Ages 10 up | Grades 5 up |304 Pages | Purchase Here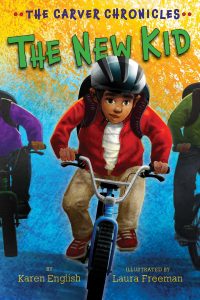 The New Kid: The Carver Chronicles, Book Five – Karen English, Illustrator – Laura Freeman 
Third-grader Gavin and his friends aren't sure what to make of the new boy in their class, Khufu. He sure doesn't look or act like the other kids . . . and they suspect that he stole Gavin's bike! Meanwhile, Gavin's Great-Aunt Myrtle is coming to stay with his family again, and Gavin is sure she'll be teaming up with his big sister to boss him around the whole time.

Offering spot-on storytelling, relatable characters and situations, and plenty of action, this gently humorous story about a diverse group of elementary-schoolers shows that even someone who seems strange can turn out to be a good friend, if you give them a chance.
December 5, 2017 | Clarion Books | Chapter Book Ages 6 up | Grades 1 up |128 Pages | Purchase Here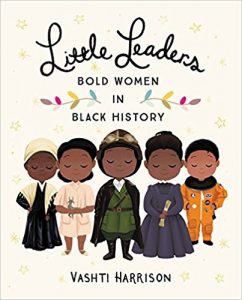 Little Leaders: Bold Women in Black History – Vashti Harrison 
Featuring forty trailblazing black women in American history, Little Leaders educates and inspires as it relates true stories of breaking boundaries and achieving beyond expectations. Illuminating text paired with irresistible illustrations bring to life both iconic and lesser-known female figures of Black history such as abolitionist Sojourner Truth, pilot Bessie Coleman, chemist Alice Ball, politician Shirley Chisholm, mathematician Katherine Johnson, poet Maya Angelou, and filmmaker Julie Dash. Among these biographies, readers will find heroes, role models, and everyday women who did extraordinary things – bold women whose actions and beliefs contributed to making the world better for generations of girls and women to come. Whether they were putting pen to paper, soaring through the air or speaking up for the rights of others, the women profiled in these pages were all taking a stand against a world that didn't always accept them. 

The leaders in this book may be little, but they all did something big and amazing, inspiring generations to come. 
December 5, 2017 | Little, Brown Books for YR | Chapter Ages 8 up | Grades 3 up |96 Pages | Purchase Here
What are your thoughts on the new releases? Do you know any books that are not listed? Let us know in the comments below.
---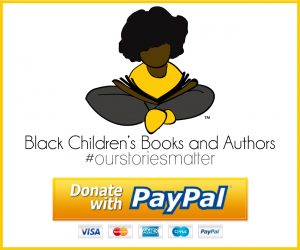 Your thoughtful donation will support our mission to promote awareness of children's and young adult literature by Black authors. Our stories matter. Thank you!