Music Time – Gwendolyn Hooks, Illustrator – Shirley Ng-Benitez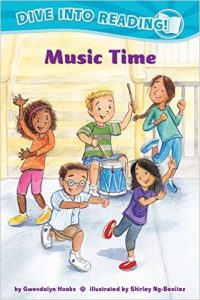 Lee & Low (March 1, 2017)
Henry dreams of becoming a rock star drummer and practices at home whenever he can. One day while Henry is drumming, his mom has to work, and asks him to stop playing. Henry decides to go outside to play his drum, and he sees his friends. Henry wants to keep practicing, but he also wants to play with his friends. By playing Freeze Dance, he can do both. And when his mother finishes work that evening, they figure out how to enjoy music together too.
Baseball Genius – Tim Green & Derek Jeter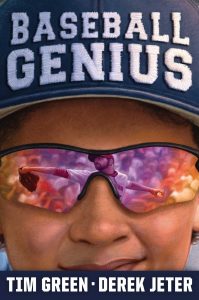 Jeter Publishing (March 7, 2017)
Jalen DeLuca loves baseball. Unfortunately his dad can't afford to keep him on the travel team. His dad runs a diner and makes enough to cover the bills, but there isn't enough to cover any extras. So Jalen decides to take matters into his own hands, and he sneaks into the home of the New York Yankee's star second baseman, James Yager, and steals a couple of balls from his personal batting cage. He knows that if he can sell them, he'll be able to keep himself on the team.
Far Apart, Close in Heart: Being a Family When a Loved One is Incarcerated – Becky Birtha, Illustrator – Maja Kastelic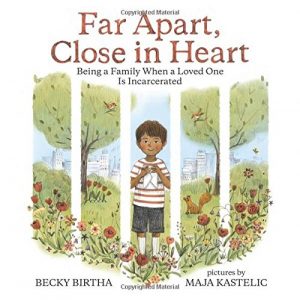 Albert Whitman & Company (March 7, 2017)
Children can experience many emotions when a parent is in jail or prison. They may be angry, sad, lonely, or scared. Sometimes friends act differently toward them. Sometimes the children begin acting differently too. In this important book, young readers will learn that even when it feels like nothing can get better again, there are ways they can improve their circumstances. Sending letters, talking to a trusted grown-up about their feelings, and even visiting a parent in jail or prison can help keep a parent close in their hearts. Use this title as a helpful tool to start a conversation with any child in this situation and to remind them they are not alone.
Out of Wonder – Kwame Alexander w/Chris Colderley & Marjory Wentworth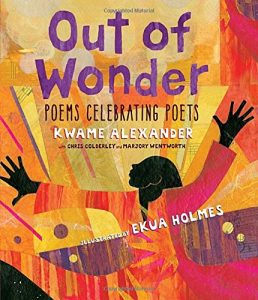 Candlewick (March 14, 2017)
Out of gratitude for the poet's art form, Newbery Award–winning author and poet Kwame Alexander, along with Chris Colderley and Marjory Wentworth, present original poems that pay homage to twenty famed poets who have made the authors' hearts sing and their minds wonder. Stunning mixed-media images by Ekua Holmes, winner of a Caldecott Honor and a John Steptoe New Talent Illustrator Award, complete the celebration and invite the reader to listen, wonder, and perhaps even pick up a pen.
Jake the Fake Keeps it Real – Craig Robinson & Adam Mansbach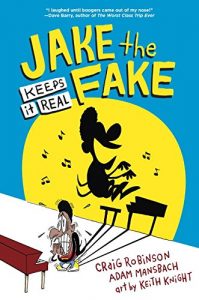 Crown Books for Young Readers (March 28, 2017)
Jake can barely play an instrument, not even a kazoo. And his art? It's better suited for Pictionary than Picasso. Which is a real problem because Jake just faked his way into the Music and Art Academy for the gifted and talented (and Jake is pretty sure he is neither). More jokester than composer, Jake will have to think of something quick before the last laugh is on him.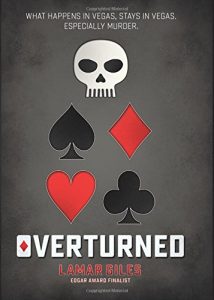 Scholastic Press (March 28, 2017)
Nikki Tate is infamous, even by Las Vegas standards. Her dad is sitting on death row, convicted of killing his best friend in a gambling dispute turned ugly. And for five years, he's maintained his innocence. But Nikki wants no part of that. She's been working on Operation Escape Vegas: playing in illegal card games so she can save up enough money to get out come graduation day. Then her dad's murder conviction is overturned. The new evidence seems to come out of nowhere and Nikki's life becomes a mess when he's released from prison.