It All Comes Down to This – Karen English 
Clarion Books (July 11, 2017)
It's 1965, Los Angeles. All twelve-year-old Sophie wants to do is write her book, star in the community play, and hang out with her friend Jennifer. But she's the new black kid in a nearly all-white neighborhood; her beloved sister, Lily, is going away to college soon; and her parents' marriage is rocky. There's also her family's new, disapproving housekeeper to deal with. When riots erupt in nearby Watts and a friend is unfairly arrested, Sophie learns that life—and her own place in it—is even more complicated than she'd once thought. 
Indigo Donut – Patrice Lawrence 
Hodder Children's Books (13 July 2017)
The breathtaking second book from the author of Orangeboy…Seventeen-year-old Indigo has had a tough start in life, having grown up in the care system after her dad killed her mum. Bailey, also seventeen, lives with his parents in Hackney and spends all his time playing guitar or tending to his luscious ginger afro. When Indigo and Bailey meet at sixth form, serious sparks fly. But when Bailey becomes the target of a homeless man who seems to know more about Indigo than is normal, Bailey is forced to make a choice he should never have to make. A life-affirming story about falling in love and everyone's need to belong.
Miles Morales: Spider-Man – Jason Reynolds, Illustrator – Kadir Nelson  
Marvel Press (August 1, 2017)
"Everyone gets mad at hustlers, especially if you're on the victim side of the hustle. And Miles knew hustling was in his veins."
Miles Morales is just your average teenager. Dinner every Sunday with his parents, chilling out playing old-school video games with his best friend, Ganke, crushing on brainy, beautiful poet Alicia. He's even got a scholarship spot at the prestigious Brooklyn Visions Academy. Oh yeah, and he's Spider Man. But lately, Miles's spidey-sense has been on the fritz. When a misunderstanding leads to his suspension from school, Miles begins to question his abilities. After all, his dad and uncle were Brooklyn jack-boys with criminal records. Maybe kids like Miles aren't meant to be superheroes. Maybe Miles should take his dad's advice and focus on saving himself. As Miles tries to get his school life back on track, he can't shake the vivid nightmares that continue to haunt him. Nor can he avoid the relentless buzz of his spidey-sense every day in history class, amidst his teacher's lectures on the historical "benefits" of slavery and the importance of the modern-day prison system. But after his scholarship is threatened, Miles uncovers a chilling plot, one that puts his friends, his neighborhood, and himself at risk. It's time for Miles to suit up.
Solo – Kwame Alexander, Mary Rand Hess 
Blink (August 1, 2017)
Solo tells the story of seventeen-year-old Blade Morrison, who knows the life of a rock star isn't really about the glitz and glamour. All the new cars and money in the world can't make up for the scathing tabloid covers or the fact that his father is struggling with just about every addiction under the sun—including a desperate desire to make a comeback and regain his former fame. Haunted by memories of his mother—who died when Blade was nine—and the ruin his father's washed-up legacy and life have brought to the family, Blade is left to figure out life on his own. But, he's not all alone: He's got the friendship of a jazz-musician mentor, Robert; the secret love of a girlfriend, Chapel; and his music. All may not be well in the Morrison home, but things are looking up for Blade, until he discovers a deeply protected family secret—one that further threatens his relationship with his family and has him questioning his own identity. Thrown into a tailspin, Blade decides the only way he will understand his past and begin his future is to find out the truth behind the music and himself. He soon sets out on a journey that will change everything he thought to be true. His quest lands him in Ghana, stuck in a village just shy of where answers to the secret can be found. There, Blade discovers a friendship he couldn't have imagined, a people founded in family and community, and a reconciliation he never expected.
Lorimer (August 1, 2017)
When Ozzie's parents disappeared from their home in Nigeria, he and his sister Rebecca were taken to an orphanage. Two years later, they have been adopted by Canadian parents and live in ethnically diverse Scarborough. With no soccer program in their school, Ozzie and the other Nigerian kids compete with a team of Syrian refugees — led by Victor — for time on the field. Ozzie has come to hate change, but an exhibition match between Ozzie United and Victor United has Ozzie taking charge of his team, while worrying that a job offer his mom receives might mean his whole family has to leave Scarborough for good. The soccer match is such a success that Ozzie and Victor are asked to unite their teams into a single force to challenge the division champions. A school soccer program for all the students is on the line. Can Ozzie tackle change head-on by teaming up with Victor to make two groups of resilient refugees into one team? And how can it be worth it if he has to leave his school anyway? This book is the second of a new set of novels about soccer teams of young refugees who have escaped war-torn areas of the world and moved to Canada.

When I Am Through With You – Stephanie Kuehn 
 Dutton Books for Young Readers (August 1, 2017)
"This isn't meant to be a confession. Not in any spiritual sense of the word. Yes, I'm in jail at the moment. I imagine I'll be here for a long time, considering. But I'm not writing this down for absolution and I'm not seeking forgiveness, not even from myself. Because I'm not sorry for what I did to Rose. I'm just not. Not for any of it."
Ben Gibson is many things, but he's not sorry and he's not a liar. He will tell you exactly about what happened on what started as a simple school camping trip in the mountains. About who lived and who died. About who killed and who had the best of intentions. But he's going to tell you in his own time. Because after what happened on that mountain, time is the one thing he has plenty of. Smart, dark, and twisty, When I Am Through With You will leave readers wondering what it really means to do the right thing.
Little & Lion – Brandy Colbert 
Little, Brown Books for Young Readers (August 8, 2017)
A stunning novel on love, loss, identity, and redemption, from Publishers Weekly Flying Start author Brandy Colbert. When Suzette comes home to Los Angeles from her boarding school in New England, she isn't sure if she'll ever want to go back. L.A. is where her friends and family are (along with her crush, Emil). And her stepbrother, Lionel, who has been diagnosed with bipolar disorder, needs her emotional support. But as she settles into her old life, Suzette finds herself falling for someone new…the same girl her brother is in love with. When Lionel's disorder spirals out of control, Suzette is forced to confront her past mistakes and find a way to help her brother before he hurts himself–or worse.  
There's a Dragon in My Closet – Dorothea Taylor, Illustrator – Charly Palmer 
Agate Bolden; Sew edition (August 8, 2017)
The dragon in the closet is such a con: one minute he's dancing like a goof under sheets and leaving "get well" notes and peppermints when little ones are sick, and the next he's tracking dirty footprints all over the carpet and eating all the snickerdoodles out of the cookie jar. With him around, there's always lots of fun—and a whole heap of trouble, especially when he goes invisible, leaving a little boy to answer for his bad behavior. Colorful illustrations bring to life this adorable tale of a kid who blames sweet surprises and mischievous behavior on an invisible, mysterious guest only he knows exists: the friendly, goofy, troublemaking dragon in his closet. But did the dragon really do it? There's a Dragon in My Closet is a funny, engaging salute to mischievous little boys and the imaginary friends that sprinkle giggles and create a few pickles on even the most ordinary days.
You Don't Know Me But I Know You – Rebecca Barrow 
 HarperTeen (August 29, 2017)
Rebecca Barrow's bright, honest debut novel about chance, choice, and unconditional love is a heartfelt testament to creating the future you truly want, one puzzle piece at a time. There's a box in the back of Audrey's closet that she rarely thinks about. Inside is a letter, seventeen years old, from a mother she's never met, handed to her by the woman she's called Mom her whole life. Being adopted, though, is just one piece in the puzzle of Audrey's life—the picture painstakingly put together by Audrey herself, full of all the people and pursuits that make her who she is. But when Audrey realizes that she's pregnant, she feels something—a tightly sealed box in the closet corners of her heart—crack open, spilling her dormant fears and unanswered questions all over the life she loves. Almost two decades ago, a girl in Audrey's situation made a choice, one that started Audrey's entire story. Now Audrey is paralyzed by her own what-ifs and terrified by the distance she feels growing between her and her best friend Rose. Down every possible path is a different unfamiliar version of her life, and as she weighs the options in her mind, she starts to wonder—what does it even mean to be Audrey Spencer?
Patina (Track Series #2) – Jason Reynolds 
Atheneum/Caitlyn Dlouhy Books (August 29, 2017)
A newbie to the track team, Patina must learn to rely on her teammates as she tries to outrun her personal demons in this follow-up to the National Book Award finalist Ghost by New York Times bestselling author Jason Reynolds. Ghost. Lu. Patina. Sunny. Four kids from wildly different backgrounds with personalities that are explosive when they clash. But they are also four kids chosen for an elite middle school track team—a team that could qualify them for the Junior Olympics if they can get their acts together. They all have a lot to lose, but they also have a lot to prove, not only to each other, but to themselves. Patina, or Patty, runs like a flash. She runs for many reasons—to escape the taunts from the kids at the fancy-schmancy new school she's been sent to since she and her little sister had to stop living with their mom. She runs from the reason WHY she's not able to live with her "real" mom any more: her mom has The Sugar, and Patty is terrified that the disease that took her mom's legs will one day take her away forever. So Patty's also running for her mom, who can't. But can you ever really run away from any of this? As the stress builds up, it's building up a pretty bad attitude as well. Coach won't tolerate bad attitude. No day, no way. And now he wants Patty to run relay…where you have to depend on other people? How's she going to do THAT?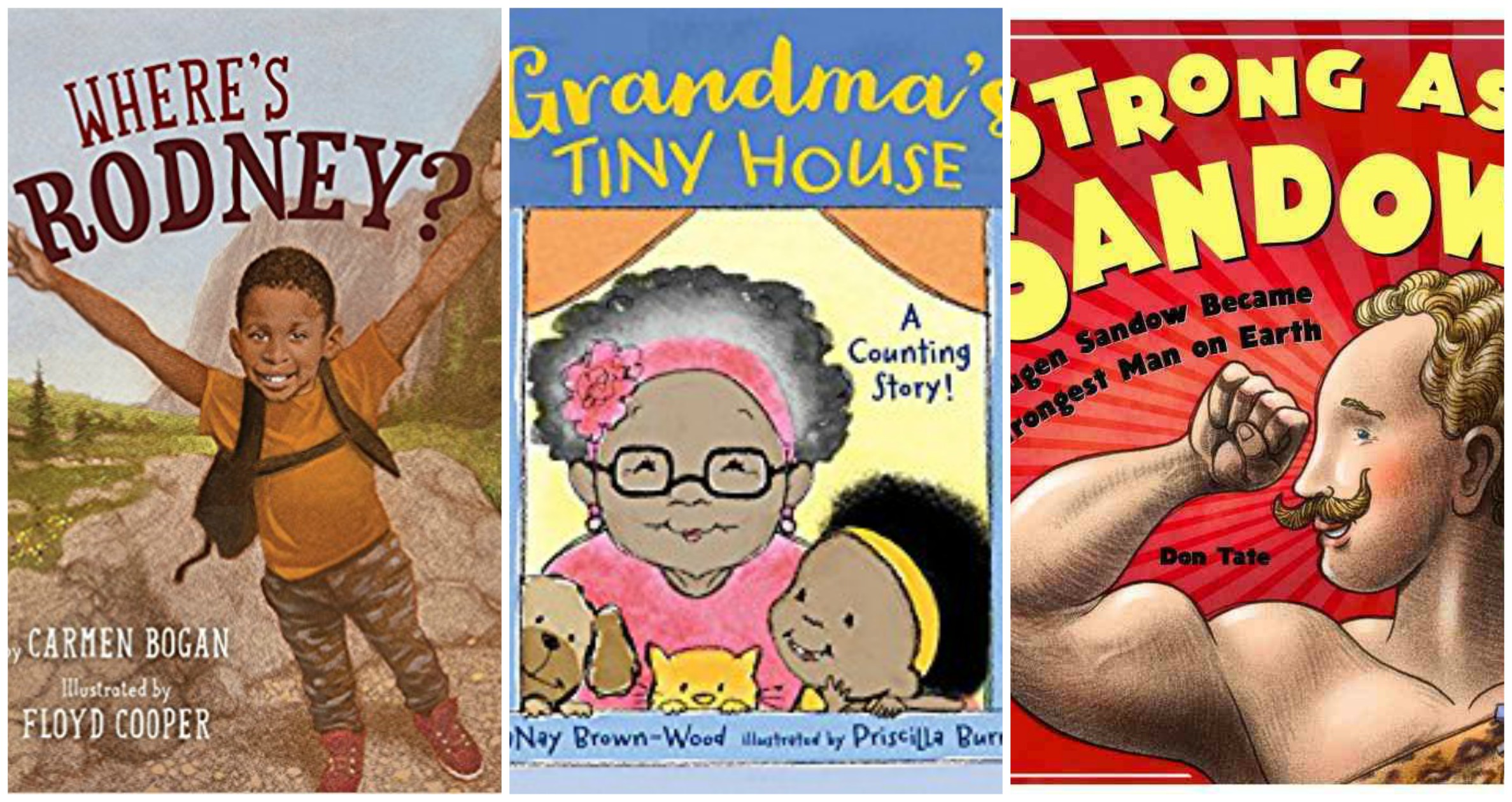 Where's Rodney? Carmen Bogan, Illustrator – Floyd Cooper 
Yosemite Conservancy (August 7, 2017)
Rodney is that kid who just can't sit still. He's inside, but he wants to be outside. Outside is where Rodney always wants to be. Between school and home, there is a park. He knows all about that park. It's that triangle-shaped place with the yellow grass and two benches where grown-ups sit around all day. Besides, his momma said to stay away from that park. When Rodney finally gets a chance to go to a real park, with plenty of room to run and climb and shout and to just be himself, he will never be the same.
Grandma's Tiny House – JaNay Wood-Brown, Illustrator – Priscilla Burris
Charlesbridge (August 8, 2017)
This sweet, rhyming counting book introduces young readers to numbers one through fifteen as Grandma's family and friends fill her tiny house on Brown Street. Neighbors, aunts, uncles, nieces, nephews, and grandkids crowd into the house and pile it high with treats for a family feast. But when the walls begin to bulge and no-body has space enough to eat, one clever grandchild knows exactly what to do. Where there's a will there's a way when families grow and come together.
Strong As Sandow: How Eugen Sandow Became The Strongest Man On Earth – Don Tate
Charlesbridge (August 22, 2017)
Little Friedrich Müller was a puny weakling who longed to be athletic and strong like the ancient Roman gladiators. He exercised and exercised. But he to no avail. As a young man, he found himself under the tutelage of a professional body builder. Friedrich worked and worked. He changed his name to Eugen Sandow and he got bigger and stronger. Everyone wanted to become "as strong as Sandow." Inspired by his own experiences body-building, Don Tate tells the story of how Eugen Sandow changed the way people think about strength and exercise and made it a part of everyday life.
What are your thoughts on the upcoming new releases? Or perhaps you know of a July or August title that's not on the list? Leave us a comment below.
Our stories matter.