The Ring Bearer – Floyd Cooper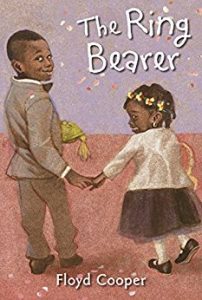 Philomel Books (April 4, 2017)
Jackson's mama is getting married, and he gets to be the ring bearer. But Jackson is worried . . . What if he trips? Or walks too slowly? Or drops the rings? And what about his new stepsister, Sophie? She's supposed to be the flower girl, but Jackson's not sure she's taking her job as seriously as she should. In a celebration of blended families, this heartwarming story, stunningly illustrated by the award-winning Floyd Cooper, is a perfect gift for any child who's nervous to walk down the aisle at a wedding, and shows kids that they can handle life's big changes.
Early Sunday Morning – Denene Millner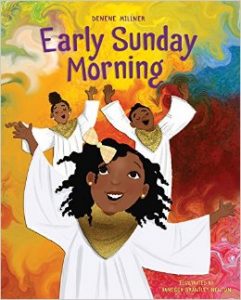 Agate Bolden (April 11, 2017)
Love and family. These are the things that a little girl finds most special about Sunday mornings. Early Sunday Morning follows June, Mommy, Daddy, and brother Troy through their weekend routine as June prepares for a special performance leading the children's choir at church on Sunday morning.
Princess and the Peas – Rachel Himes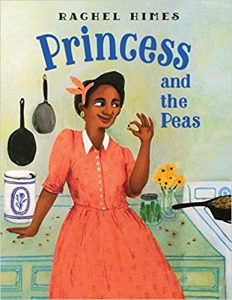 Charlesbridge (April 11, 2017)
In this adaptation of The Princess and the Pea, Ma Sally cooks the best black-eyed peas in Charleston County, South Carolina. Her son, John, is a highly eligible bachelor, and three local women vie for his hand in marriage by attempting to cook as well as Ma. At the last minute, a surprise contestant named Princess arrives at the door. Princess and John are well-matched, but Princess has her own ideas. When told she has won John's hand, she asks him to scrub the pots and pans before she'll give him an answer. Her answer, it turns out, is that she wants to spend some time getting to know John first.
Fair Ball – Derek Jeter w/Paul Mantell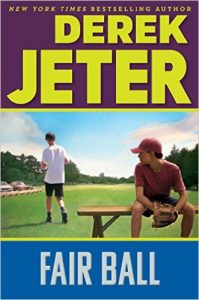 Simon & Schuster/Paula Wiseman Books (April 18, 2017)
Derek has a lot to look forward to. School is almost out, his baseball team is competing in the Westwood Little League Playoffs, and then he'll head to his grandparents' house for the summer. Sure, there are finals to study for first, but Derek doesn't mind. Maybe this year he'll get better grades than Gary. But when his best friend Dave starts to act strangely, ignoring Derek and canceling their plans, his summer isn't looking quite so fun. What's going on? Doesn't he want to be Derek's friend anymore?
American Girl: Gabriela Speaks Out Book #2 – Teresa E. Harris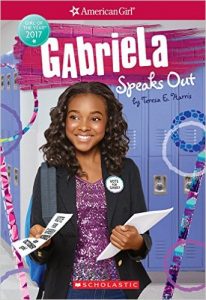 Gabriela's second novel picks up where her first left off. Her BFF may be going to another school, but Gabby is determined to make sixth grade the best year ever! She's even ready to stand up to confident and intimidating Aaliyah Reade-Johnson if she makes fun of Gabby for her stutter. What she isn't ready for is Sixth Grade Initiation–a series of pranks the older kids play on the sixth graders. Gabby could stop the tradition if she wins the school election . . . but Aaliyah is running, too, which means Gabby's chances for victory are slim. Can Gabby find the courage to stand on her own, speak out for change, and do what seems impossible?