Author and storyteller, Dianne de Las Casas, founded Picture Book Month to celebrate print picture books. She believed that "There's nothing like the physical page turn of a beautifully crafted picture book." Every day in November, authors and illustrators ("picture book champions") pen essays on the importance of picture books. This year's champions include 2017 Caldecott winner, Javaka Steptoe and Kelly Starling Lyons, a founding member of The Brown Bookshelf. Go here to view the calendar and find out when the essays will post. Our list includes 30 picture books for your reading enjoyment. For more picture books, visit our category page, Genres, Themes, and…. Happy Reading!

Where's Rodney? – Carmen Bogan, Illustrator – Floyd Cooper
Grandma's Tiny House – JaNay Wood-Brown, Illustrator – Priscilla Burris
The Ring Bearer – Floyd Cooper 
Early Sunday Morning – Denene Millner, Illustrator – Vanessa Brantley-Newton
How to Find a Fox – Nilah Magruder 

One Day in the Eucalyptus, Eucalyptus Tree – Daniel Bernstrom, Illustrator – Brenden Wenzel
Malaika's Costume – Nadia L. Hohn, Illustrator – Irene Luxbacher
Callaloo: A Jazz Folktale – Marjuan Canady, Illustrator – Nabeeh Bilal 
There's a Dragon in My Closet – Dorothea Taylor, Illustrator – Charly Palmer y
A Child's Book of Prayers and Blessings: From Faiths and Cultures Around the World – Deloris Jordan, Illustrator – Shadra Strickland  

Willie Jerome – Alice Faye Duncan, Illustrator – Tyrone Geter 
Radiant Child: The Story of Young Artist Jean-Michel Basquiat – Javaka Steptoe 
Princess and the Peas – Rachel Himes 
The Chicken-Chasing Queen of Lamar County – Janice N. Harrington, Illustrator – Shelly Jackson 

Greetings, Leroy –  Itah Sadu, Illustrator – Alix Delinois
Night Out with Mama – Quvenzhane Wallis, Illustrator – Vanessa Brantley-Newton 
Lottie Paris Lives Here – Angela Johnson, Illustrator – Scott M. Fischer  
Crown: An Ode to the Fresh Cut – Derrick Barnes, Illustrator – Gordon C. James
One More Dino on the Floor – Kelly Starling Lyons, Illustrator – Luke Flowers 

Kenya's Song – Linda Trice, Illustrator – Pamela Johnson 
No Mirrors in My Nana's House – Ysaye M. Barnwell, Illustrator – Synthia Saint James 
Something Beautiful – Sharon Dennis Wyeth, Illustrator – Chris K. Soentpiet
Two Mrs. Gibsons – Toyomi Igus, Illustrator – Daryl Wells
Rice & Rocks – Sandra L. Richards, Illustrator – Megan Kayleigh Sullivan

The Three Billy Goats Gruff – Jerry Pinkney 
He's Got the Whole World in His Hands – Kadir Nelson
Anna Carries Water – Olive Senior, Illustrator – Laura James 
Bintou's Braids – Sylvianne Diouf, Illustrator – Shane Evans
What are your thoughts on the books listed? Do you have a title to share for Picture Book Month? Let us know in the comments below.
---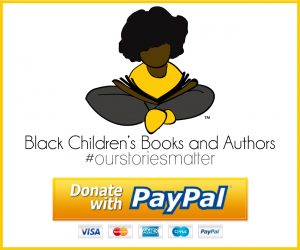 Your thoughtful donation will support our mission to promote awareness of children's and young adult literature by Black authors. Our stories matter. Thank you!